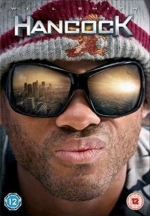 You can like the movie for one reason as it has the favorite star Will Smith but at the same time dislike the movie for many reasons. In this action movie we can see Will Smith trying to be the superhero who once tried to become favorite of the mass and does not jell well with Charlize Theron wife of Jason Bateman. He has a strange association with Jason Bateman the smart aleck PR. Hancock saves Jason Bateman from injury. Out of conscience Jason Bateman's Ray tries to amend Hancock and in the process we come across some of the funny side of the film.
Smith here is without favoritism appealing. As Smith tries to become a new person there is emergence of the unconvincing villain by the actor Eddie Marsan. But the plot looked superficial. This out of the blue turn of events in the movie looked quite bizarre and some crisis, then fight and series of events followed ending the movie. It is not quite a palpable superhero action comedy type movie. Hancock seems to be watchable for one hour but from the second hour it bores. Hancock tries to mix and match wrongly all the superpowers for which superheroes are famous for. The storyline is poor but there are some witty moments and good actions.
The picture depicts well that what importance a PR has to wash out the negative image. You can enjoy the movie if you wish to without having any extraordinary expectations from Will Smith. Hancock has some funny sides though imbalanced and Smith is acting more crafty than required. Jason Bateman is convincing enough and Charlize Theron playing an unusual role is sharp. The film has been directed by Peter Berg, scripted by Vy Vincent Ngo, Vince Gilligan and cinematography is by Tobias Schliessler.
Tagline
- He is saving the world whether we like it or not.
There are heroes. There are superheroes. And then there's...
- Meet the superhero everybody loves to hate.
Movie Info
Year:

IMDB Rating:

6.7

IMDB Votes:

50481

Countries:

Genres:

Tags:

Domestic:

$227,946,274 (36.5%)

+ Foreign:

$396,440,472 (63.5%)

= Worldwide:

$624,386,746

Opening
Weekend:

$62,603,879 (3,965 theaters, $15,789 average) % of Total Gross: 27.5%

Release:

3,965 theaters