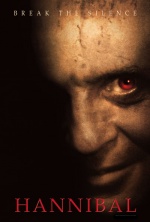 Dr. Hannibal Lecter (Anthony Hopkins) is back! Having escaped from clutches of the FBI, Lecter finds shelter in Florence, Italy, and leads a sybaritic life under the guise of a scientific researcher. Meanwhile, in America Mason Verger (Gary Oldman), the doctor's nemesis and old victim, has a thirst for vengeance and takes attempts to entice Lecter out of his hiding place using Agent Clarice Starling (Julianne Moore), the mere thought of whom excites the cannibal...
Tagline
- Break The Silence
He's A Man After Your Heart[UK - Valentine's Day Preview]
- His genius UNDENIABLE. His evil UNSPEAKABLE. His name... HANNIBAL.
His genius... UNDENIABLE - His evil... UNSPEAKABLE - His name... UNFORGETTABLE
- How long can a man stay silent before he returns to the thing he does best?
May the silence be broken!
Ten years ago he could get to you from behind the glass. On Feb 9th, he's out. HANNIBAL
The silence will be broken.
- The world's most deliciously evil gentleman is back!
Movie Info
Year:

IMDB Rating:

6.3

IMDB Votes:

43013

Countries:

Genres:

Tags:

Blockbuster, Murder, Product placement, Sequel, Character name in title, Twist in the end, Blood, Blood splatter, Death, Disturbing



Domestic:

$165,092,268 (46.9%)

+ Foreign:

$186,600,000 (53.1%)

= Worldwide:

$351,692,268

Opening
Weekend:

$58,003,121 (3,230 theaters, $17,957 average) % of Total Gross: 35.1%

Release:

3,292 theaters