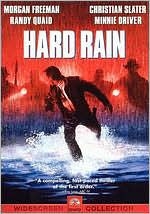 Heavy Rainfall causes a Indiana river to swell and flood the town. All inhabitants are forced by public services to leave instantly. Tom and his uncle Charlie work for a money transport firm and their assignment is to evacuate all cash from the banks along the flooding river. So, their truck is loaded with about three million Dollars. Hank tries to prevent further flooding, as he's the guy responsible for the dam up the river, but he has to open one gate in order to save the old dam from breaking. Only the police under the Sheriff's leadership stay in town to prevent looting. As the water level rises, Tom and Charlie's Truck gets stuck in the flooded road. This is the moment, Jim, an elderly thief, and his gang have been waiting for. In an attempt to get the money from the truck, Charlie gets shot and Tom swims off to save the cash bags. While trying to hide, he meets Karen, who resisted to leave the old church she has been restoring for eight months. She thinks he is a looter, and calls the cops to bring him in. But as the Sheriff finds out about that much cash in a situation like this, he radios his old pal Hank, up at the dam...
Tagline
- Prepare for hard rain.
Hol tief Luft. Du wirst sie brauchen. (Take a deep breath. You'll need it.)
- In the worst storm in living memory, one guard stands between five men and three million dollars.
A simple plan. An instant fortune. Just add water.
User Reviews of Hard Rain