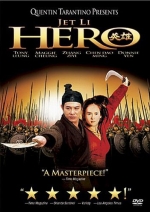 In feudal China, the King of Qin is waging a bloody campaign to conquer the entire land. He has been made a target of three dangerous assassins: spear-wielding Sky, and the lovers Broken Sword and Flying Snow. One day word comes that he has nothing left to fear; a prefect known only as Nameless has killed all three assassins. Nameless is called to the palace and asked to recount the tale of how he accomplished this amazing feat. After he tells his story, however, the King notices some flaws in it...
Tagline
- One man's strength will unite an empire
How far would you go to become a hero?
- One man will challenge an empire
Movie Info
Year:

IMDB Rating:

8

IMDB Votes:

45432

Countries:

Genres:

Tags: