Home Alone 2: Lost in New York
Movie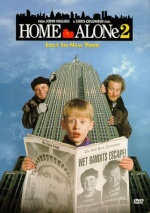 Home Alone 2: Lost in New York is the terrifically funny sequel of the family-oriented movie "Home Alone". Kevin's (Macaulay Culkin) family goes to Florida to have a holiday, but the young boy gets lost in the NY airport. Now he is to turn the Big Apple into a huge playground, because he has credit cards enough to be independent, as it seems to him. But his old foes Harry (Joe Pecsi) and Marv (Daniel Stern) are out of prison and they accidentally meet the boy in New Yourk. Well, Kevin has a lot of tricks to put them away back to prison.
Tagline
- First, he was home alone, now he's lost in New York
He's up past his bedtime in the city that never sleeps.
User Reviews of Home Alone 2: Lost in New York
Movie Info
Year:

IMDB Rating:

5.4

IMDB Votes:

27274

Countries:

Genres:

Tags:

Blockbuster, Chase, Remote control, Sequel, Gun, Robbery, Central park new york, New york, Revenge, Fall from height



Domestic:

$173,585,516 (48.4%)

+ Foreign:

$185,409,274 (51.6%)

= Worldwide:

$358,994,790

Opening
Weekend:

$31,126,882 (2,222 theaters, $14,008 average) % of Total Gross: 17.9%

Release:

2,461 theaters