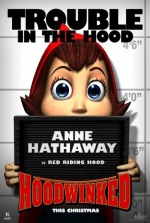 A well-known tale of the Little Red Riding Hood gets a new interpretation in this computer-animated comedy for the whole family. You think that you know this story well? Absolutely not! While Chief Grizzly (Xzibit) and Detective Bill Stork (Anthony Anderson) investigate a domestic disturbance at Granny's (Glenn Close) cottage, it becomes clear that the Red Riding Hood (Anne Hathaway) owes a karate black belt, the Wolf (Patrick Warburton) isn't the blood-thirsty predator and an oafish Woodsman (Jim Belushi) doesn't have much of an intellectual advantage over the trees he chops down and the figure of the elusive Goody Bandit looms up over the story.
Tagline
- A Granny Who Kicks Fanny
Armed And Dangerously Dumb
- Red Riding Hood, The Woodsman, Granny, The Wolf. Not Your Typical Crime. Not Your Usual Suspects.
User Reviews of Hoodwinked!
Movie Info
Year:

IMDB Rating:

6.7

IMDB Votes:

9140

Countries:

Genres:

Tags: