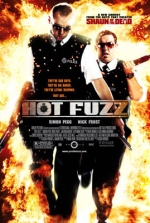 When jealous superior officers transfer London's successful constable Nicholas Angel (Simon Pegg) to the remote sleepy town of Sandford, he tries to accommodate himself to a seemingly crime-free life in the village as well as to his oafish partner, Danny Butterman(Nick Frost). However, a series of ghastly crimes that rocks the town make Nicholas realize that Sandford is not what it seems at first glance. Angel and the overzealous Butterman set out to solve the murder cases.
Tagline
- They're bad boys. They're die hards. They're lethal weapons. They are...
They are going to bust your arse
- Big Cops. Small Town. Moderate Violence.
When the heat is on, you gotta call the fuzz.
Movie Info
Year:

IMDB Rating:

8.1

IMDB Votes:

64792

Countries:

Genres:

Tags:

Chase, Helicopter, London england, Murder, Video surveillance, Blood splatter, Disturbing, Police, Shot in the leg, Shot to death



Domestic:

$23,637,265 (29.3%)

+ Foreign:

$56,936,509 (70.7%)

= Worldwide:

$80,573,774

Opening
Weekend:

$5,848,464 (825 theaters, $7,089 average) % of Total Gross: 24.7%

Release:

1,272 theaters