Hot Shots! Part Deux
Movie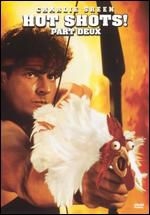 This parody is a sequel to the "Hot Shots" comedy starring Charlie Sheen. In this hilarious movie his superhero heads to the Near East to fight Saddam, to imitate Rambo and to make you laugh as loud as possible. Many films are ridiculed in this comedy flick, from Starwars to Rambo and Apocalypse Now. The hero, Topper Harley, is to leave the Buddhist temple (where he found the inner Harmony being isolated from the world and from women) to save the hostages in Iraq.
Tagline
- Grab your guns! It's Hot Shots Part Deux!
Just Deux it.
- The mother of all sequels!
User Reviews of Hot Shots! Part Deux
Movie Info
Year:

IMDB Rating:

6

IMDB Votes:

15453

Countries:

Genres:

Tags:

Helicopter, Martial arts, Sequel, Gun, Number in title, Death, Spoof, Second part, Sex scene, Hit in crotch



Domestic:

$38,922,972 (29.1%)

+ Foreign:

$94,829,853 (70.9%)

= Worldwide:

$133,752,825

Opening
Weekend:

$10,250,661 (2,122 theaters, $4,830 average) % of Total Gross: 26.3%

Release:

2,140 theaters