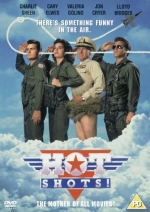 This crazy, unabashed parody refers to many well-known movies of different genres - from action to patriotic and erotic films. Topper Harley (Charlie Sheen) has to return back from his self-exile, because he is a brilliant pilot and the Government chosen him for the secret air force mission. Comical situations which resemble different scenes from various blockbusters can make you hee-haw, because this film is one of the first and the best parodies among various "Scary movies" and other following films which are sometimes not as good as this one.
Tagline
- The mother of all movies!
There's something funny in the air.
- Unprecendented! Uncut! Under 10 dollars!
User Reviews of Hot Shots!
Movie Info
Year:

IMDB Rating:

6.3

IMDB Votes:

18835

Countries:

Genres:

Tags:

Blockbuster, Elvis, Elvis impersonator, Elvis presley, Spoof, Military, Aviation, Drill instructor, Pianist, Horseback riding



Domestic:

$69,467,617 (38.4%)

+ Foreign:

$111,628,547 (61.6%)

= Worldwide:

$181,096,164

Opening
Weekend:

$10,848,182 (1,929 theaters, $5,623 average) % of Total Gross: 15.6%

Release:

1,999 theaters