House of 1000 Corpses
Movie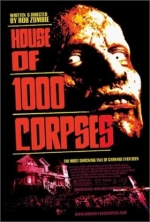 Jerry, Bill, Mary, and Denise are two couples out on the road in hopes of writing a book on offbeat roadside attractions. When the four meet Captain Spaulding, they learn of the legend of Dr. Satan. When the four take off in search of finding the tree that Dr. Satan was hung from, they pick up hitchhiker Baby. When their car breaks down, Baby invites them into her house. This is where the two couples meet the Firefly family, a murderous clan of bizarre people. As the family attacks the unsuspecting couples, Jerry and his friends try to survive the house of 1000 corpses and it's dark secrets.
Tagline
- The most shocking tale of carnage ever seen.
The movie some never wanted you to see.
- There's no turning back!
- You'll never get out alive.
Life and Death are Meaningless...And Pain Is God
User Reviews of House of 1000 Corpses
Movie Info
Year:

IMDB Rating:

5.5

IMDB Votes:

18376

Countries:

Genres:

Tags: