How the Grinch Stole Christmas
Movie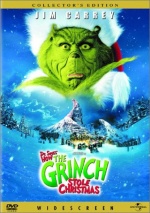 Once upon a time, in the magical land of Whoville, there lived a little man named the Grinch (Jim Carrey). The Grinch was different from the townspeople: he was green and hairy, so the Who's teased him all the time. The Grinch took offence at the Who's and made his home high atop Mt. Crumpit where he lived for 30 years. He hated the Who's and Christmas with an equal hatred. Each Christmas with its festivities, decorations, presents and carols was sheer torture to the green hermit. One day the spiteful mountain dweller decided to deprive the Who's of Christmas once and for all. As soon as the carefree Who's went to sleep on Christmas Eve, the treacherous Grinch slunk into the town in order to steal everything associated with their favourite holiday.
Tagline
- All Whos beware: He's mean and green!
He puts the mean in green.
- Inside a snowflake, like the one on your sleeve, there happened a story you must see to believe.
- You're a mean one, Mr. Grinch!
User Reviews of How the Grinch Stole Christmas
Movie Info
Year:

IMDB Rating:

5.6

IMDB Votes:

20343

Countries:

Genres:

Tags:

Blockbuster, Character name in title, Remake, Thief, Exploding car, Love, Humor, Redemption, X rayed skeleton, Dog



Domestic:

$260,044,825 (75.3%)

+ Foreign:

$85,096,578 (24.7%)

= Worldwide:

$345,141,403

Opening
Weekend:

$55,082,330 (3,127 theaters, $17,615 average) % of Total Gross: 21.2%

Release:

3,256 theaters