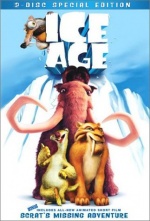 Early mammals have hard times: the Ice Age is come! An action of this computer-animated movie takes place twenty thousand years ago, when Arctic glaciers approached close to the motherland of Manny (voiced by Ray Romano), Sid (voiced by John Leguizamo) and Scrat (Wedge), who respectively are a mammoth, a sloth and a side-splitting saber-tooth squirrel. Freezing temperatures and the command of evil tigers oblige them to fight for survival, from time to time animals get into different hilarious and threatening situations, trying to save the human child which was torn from its tribe as a result of the tiger assault. Manny and Sid want to return the infant to his father when the demonic saber-toothed striped villain named Diego (Denis Leary) claims his rights to this child.
Tagline
- Ice Age is coming
Licensed To Chill
The Coolest Event In 16,000 Years.
- They came. They thawed. They conquered.
Movie Info
Year:

IMDB Rating:

7.3

IMDB Votes:

39642

Countries:

Genres:

Tags:

Blockbuster, Fall from height, Title spoken by character, Avalanche, Redemption, Rescue, Snowboarding, Loss of wife, Compassion, Ice cave



Domestic:

$176,387,405 (46.0%)

+ Foreign:

$206,869,731 (54.0%)

= Worldwide:

$383,257,136

Opening
Weekend:

$46,312,454 (3,316 theaters, $13,966 average) % of Total Gross: 26.3%

Release:

3,345 theaters