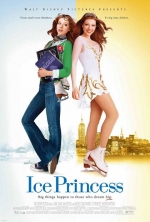 Casey Carlyle (Michelle Trachtenberg), a bright high school student, has always dreamt of becoming a championship figure skater but she is forced to abandon her dream and head for Harvard to please her domineering professor mother Joan Carlyle (Joan Cusack). Fortunately for Casey, she gets the chance to make her dream come true when she visits a skating club and starts training with champion-in-the-making Gen Harwood (Hayden Panettiere) and her mother Tina (Kim Cattrall), a former professional skater. The more Casey trains, the more she finds herself attracted to the sport, the more she becomes obsessed with the idea of competing in the championship circuit. Does she have enough courage to ruin her mother's hopes completely in order to achieve her childhood dream?
Tagline
- From small town Mathlete, To big time Athlete
Big things happen to those who dream big.
- From Scholastic...To Fantastic!
User Reviews of Ice Princess
Movie Info
Year:

IMDB Rating:

6

IMDB Votes:

3914

Countries:

Genres:

Tags:

Camcorder, Single mother, Brother sister relationship, Party, Teacher student relationship, Rivalry, Harvard, High school, Mother daughter relationship, Boyfriend girlfriend relationship



Domestic:

$24,402,491 (88.3%)

+ Foreign:

$3,243,000 (11.7%)

= Worldwide:

$27,645,491

Opening
Weekend:

$6,807,471 (2,501 theaters, $2,721 average) % of Total Gross: 27.9%

Release:

2,501 theaters