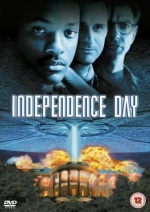 The ultimate encounter when mysterious and powerful aliens launch an all out invasion against the human race. The spectacle begins when massive spaceships appear in Earth's skies. But wonder turns to terror as the ships blast destructive beams of fire down on cities all over the planet. Now the world's only hope lies with a determined band of survivors, uniting for one last strike against the invaders - before it's the end of mankind.
Tagline
- Don't make plans for August.
EARTH Take a good look. It could be your last.
- Enjoy The Superbowl. It May Be Your Last (Superbowl Promo)
On July 2, 1996, the aliens came. On July 3, 1996, the aliens saw and struck. On Independence Day 1996, the human race will CONQUER!
- On July 2nd, they arrive. On July 3rd, they strike. On July 4th, we fight back.
The question of whether or not we are alone in the universe has been answered.
- THESE extraterrestrials don't want to phone home...They want OUR home.
They only want one thing... DESTRUCTION!
- WARNING! Your next stop may not be there.
We've always believed we weren't alone. Pretty soon, we'll wish we were.
User Reviews of Independence Day
Movie Info
Year:

IMDB Rating:

6.2

IMDB Votes:

86392

Countries:

Genres:

Tags:

Blockbuster, Helicopter, London england, Los angeles california, New york, Statue of liberty, Title spoken by character, Vomit, Car accident, Father daughter relationship



Domestic:

$306,169,268 (37.5%)

+ Foreign:

$511,231,623 (62.5%)

= Worldwide:

$817,400,891

Opening
Weekend:

$50,228,264 (2,882 theaters, $17,428 average) % of Total Gross: 16.4%

Release:

2,977 theaters