Indiana Jones and the Kingdom of the Crystal Skull
Movie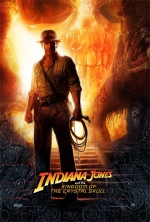 Here comes another Indiana Jones movie. Directed by Steven Spielberg, Indiana Jones and the Kingdom of the Crystal Skull hit the movie theaters on May 2008. And as expected, we get another masala movie consisting of romance, adventure, action and thrill. The movie is set in 1957 in accordance to Harrison Ford's look and style.
The 90s were marked by a period of Cold War. So here we have another one of the typical, worn with use Soviet Scare coming into play. All the Soviets are conspiring to take over US, oops sorry, the world. Irina Spalko is one of them. How do the Soviets plan to do it? The process is interesting.
They plan to get hold of a crystal skull. This skull has got psychic powers. It is also alien. Can you believe it? An alien psychic skull! Well, this is an Indiana Jones movie. So get prepared to have some more surprises. The skull belonged to an alien and it has psychic power. The aliens additionally were the ones that had helped the Ugha warriors to have an advanced technology.
The developed nations always have a tendency of looking at the developing countries with the supreme curiosity of "The Other". Here also Spielberg couldn't resist showing off the temptation of USA to find an El Dorado in the Magic Realism of Latin America. Some movie it is, El Dorado, alien skull, psychic powers.
But the highlight of Indiana Jones and the Kingdom of the Crystal Skull is definitely the scene where all the crystal skulls join together to form an alien being. They give "knowledge" to Irina Spalko which results in her death. That is why the adage says, Ignorance is bliss!
Nevertheless, Indiana Jones and the Kingdom of the Crystal Skull promises to be a good treat for adventure freaks and loyal Jones fans.
User Reviews of Indiana Jones and the Kingdom of the Crystal Skull
Movie Info
Year:

IMDB Rating:

8.1

IMDB Votes:

8065

Countries:

Genres:

Tags:

Sequel, Character name in title, Humor, Rescue, Hero, Pistol, Supernatural, Jungle, Professor, Good versus evil



Domestic:

$317,023,851 (40.3%)

+ Foreign:

$468,977,560 (59.7%)

= Worldwide:

$786,001,411

Opening
Weekend:

$100,137,835 (4,260 theaters, $23,507 average) % of Total Gross: 31.6%

Release:

4,264 theaters