Indiana Jones and the Last Crusade
Movie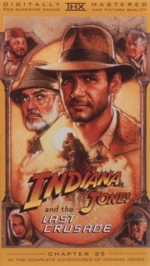 This time, Indy is on a perilous hunt for the Holy Grail. He's not alone, either. Joining Junior—uh, Indy—is none other than his cantankerous dad. Father and son have rarely seen eye to eye. But if the adventure they share can't bridge the generation gap, nothing can. It can. It does. Also a brief glimpse into the life of Indy as an adolescent which reveals how the fedora, the bull whip, and the ophidiophobia (fear of snakes) became part of Indy lore.
Tagline
- Have the adventure of your life keeping up with the Joneses
He's back in an all new adventure. Memorial Day 1989.
- The man with the hat is back. And this time, he's bringing his Dad.
User Reviews of Indiana Jones and the Last Crusade
Movie Info
Year:

IMDB Rating:

8.2

IMDB Votes:

91671

Countries:

Genres:

Tags:

Blockbuster, Motorcycle, Sequel, Character name in title, Explosion, Train, Betrayal, Beach, Car accident, Father son relationship



Domestic:

$197,171,806 (41.6%)

+ Foreign:

$277,000,000 (58.4%)

= Worldwide:

$474,171,806

Opening
Weekend:

$29,355,021 (2,327 theaters, $12,614 average) % of Total Gross: 14.9%

Release:

2,327 theaters