It's a Mad Mad Mad Mad World
Movie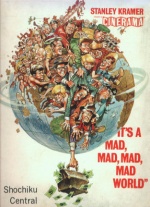 Somewhere in the desert. A car speeds like crazy along the roads. Suddenly, the driver loses control and sails off a cliff. Four other vehicles are near, they stop to help. The dying man narrates the drivers of a fortune in cash, $350,000, which he has hidden below a giant "W" in Santa Rosita, some 200 miles away. The four drivers and their respective passengers can't decide on how to share the future fortune, and suddenly a wild race to Santa Rosita develops. While one party manages to rent a plane (from 1916), the others face different problems like tire damage, untrustworthy lifts, deep water, drunken millionaires, a British adventurer, little girl's bicycles, and last but far not least a mother-in-law from hell and her imbecile son. While the folks slowly travel towards the goal, they are being watched. Who ever said that nobody else knew about the fortune?
Tagline
- Everybody who's ever been funny is in it!
If ever this mad, mad, mad, mad world needed "It's a mad, mad, mad, mad world" it's now! (1970 re-release)
- It's The Biggest Entertainment Ever To Rock The Screen With Laughter!
User Reviews of It's a Mad Mad Mad Mad World
Movie Info
Year:

IMDB Rating:

7.4

IMDB Votes:

9751

Countries:

Genres:

Tags: