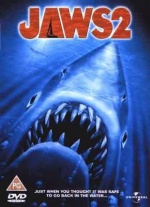 Based on Peter Benchley's best-selling novel, this gory spine-chiller revolves around the peaceful small community of Amity Island who are terrorized by sudden attacks from a gigantic white shark with a hunger for human fresh. First, the hideous creature takes the life of a young woman named Chrissie Watkins (Susan Backlinie). Then it mercilessly attacks and eats a young boy named Alex Kintner (Jeffrey Voorhees). Filled with utter despair and unspeakable horror, the summer vacationers can no longer enjoy the sea and the sun as the shark threatens their lives. So new police chief Martin Brody (Roy Scheider), young oceanographer Matt Hooper (Richard Dreyfuss), and shark hunter Quint (Robert Shaw) team up to hunt down and kill the man eater.
Tagline
- Don't go in the water
See it before you go swimming.
Do you like fish? Well, he likes you too...
- When beaches open this summer, you will be taken by Jaws.
The terrifying motion picture from the terrifying No. 1 best seller.
- Amity Island had everything. Clear skies. Gentle surf. Warm water. People flocked there every summer. It was the perfect feeding ground.
The Nation's No.1 Best-Selling Book now the Screen's Super-Thriller
- You'll never go in the water again!
Movie Info
Year:

IMDB Rating:

8.3

IMDB Votes:

86052

Countries:

Genres:

Tags: