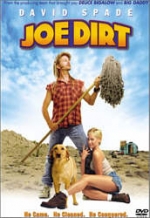 David Spade plays Joe, whose search for his family has him hittin' the road and keepin' it real with every lowlife he meets, including a sweet hottie (Brittany Daniel), a janitor (Christopher Walken), and a pychotic cannibal (Brian Thompson) with whom he has a brief interlude. Through it all, Joe keeps on truckin' . . . all the way to L.A., where a shock jock DJ (Dennis Miller) targets Joe as the butt of his show. But Joe's plucky spirit encourages listeners to cheer him on and help him find a better family than the one he thought he wanted. Rock on!
Tagline
- Dig it.
Join The Porta-Party.
- His name's not mud... but it's close.
He Came. He Cleaned. He Conquered
- Keep on Moppin' in the Free world.
Trailer Trash - Wig Wearin' - Acid Wash - Jean Lovin' - Rock Concert - T-Shirt Sportin' - Hero
- Life's a garden. Dig it.
From the producing team that brought you DEUCE BIGALOW and BIG DADDY
Movie Info
Year:

IMDB Rating:

5.2

IMDB Votes:

11279

Countries:

Genres:

Tags:

Character name in title, Los angeles california, Marriage proposal, Person on fire, Statue of liberty, Fall from height, Love, Crude humor, Flashback sequence, California



Domestic:

$27,087,695 (87.4%)

+ Foreign:

$3,900,000 (12.6%)

= Worldwide:

$30,987,695

Opening
Weekend:

$8,016,008 (2,638 theaters, $3,038 average) % of Total Gross: 29.6%

Release:

2,638 theaters