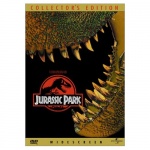 On a remote island, a wealthy entrepreneur secretly creates a theme park featuring living dinosaurs drawn from prehistoric DNA. Before opening the attraction to the public, he invites a top paleontologist, a paleobotanist, a mathematician/theorist, and his two eager grandchildren to experience the park — and help calm anxious investors. However, their park visit is anything but tranquil as the park's security system breaks down, the prehistoric creatures break out, and the excitement builds to surprising results. Based on Michael Crichton's best-selling novel.
Tagline
- An Adventure 65 Million Years In The Making
The most phenomenal discovery of our time... becomes the greatest adventure of all time.
User Reviews of Jurassic Park
Movie Info
Year:

IMDB Rating:

7.5

IMDB Votes:

66379

Countries:

Genres:

Tags:

Blockbuster, Helicopter, Product placement, Sabotage, Child in peril, Title spoken by character, Based on novel, Cult favorite, Disaster, Computer



Domestic:

$357,067,947 (39.0%)

+ Foreign:

$557,623,171 (61.0%)

= Worldwide:

$914,691,118

Opening
Weekend:

$47,026,828 (2,404 theaters, $19,561 average) % of Total Gross: 13.2%

Release:

2,566 theaters