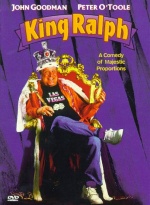 When an accident obliterates the British royal family and most of its branches, a desperate geneological search discovers the next king: Ralph, a sleazy American lounge singer. Can Ralph measure up to the job, even with the help of loyal aristocrat Willingham?
Tagline
- A comedy of majestic proportions
A great tragedy has befallen the royal family leaving only one heir to the throne...
- When Ralph becomes royalty, laughter reigns!
User Reviews of King Ralph
Movie Info
Year:

IMDB Rating:

4.8

IMDB Votes:

3441

Countries:

Genres:

Tags:

Las vegas nevada, Obscene finger gesture, Arrest, Tattoo, Airplane, Dancing, Dart, Prime minister, Slapstick, Based on novel



Domestic:

$34,002,045 (64.8%)

+ Foreign:

$18,485,000 (35.2%)

= Worldwide:

$52,487,045

Opening
Weekend:

$8,327,550 (1,617 theaters, $5,150 average) % of Total Gross: 24.5%

Release:

1,646 theaters