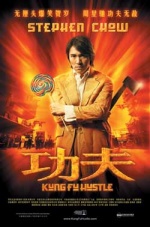 The story takes place in China in the 1940s and revolves around Sing (Stephen Chow), a young charming but clumsy hoodlum who aspires to join the legendary "Axe Gang." Meanwhile, the ruthless lord of the most feared gang, Brother Sum (Kwok-Kwan Chan), who wants to dominate everyone, starts terrorizing a slum small neighborhood called Pig Sty Alley. Nevertheless, an old but spry landlord (Wah Yuen), who rules the neighborhood, and his mean wife (Qiu Yuen) go on a warpath to defend their apartment complex and its residents from their villainous usurpers.
Tagline
- A new comedy unlike anything you have seen before
From walking disaster to kung fu master
- So many gangsters...so little time.
Movie Info
Year:

IMDB Rating:

7.8

IMDB Votes:

26638

Countries:

Genres:

Tags: