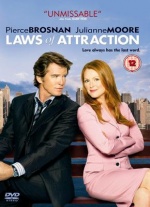 Daniel Rafferty (Pierce Brosnan) and Audrey Miller (Julianne Moore) are two rival divorce attorneys in NY, they pleads the cases of two quarreling spouses and follows two opposite ways of life as it seems. They feel a kind of sympathy to each other but almost don't give it a way until the moment they are to visit the castle which is a subject-matter of case. While Daniel and Audrey try to come to terms with their own relations, their heavily-publicized clients, a rock star and his wife, carry out their own. Battle of the sexes rages on!
Tagline
- Getting married is a great way to fall in love.
Love always has the last word.
User Reviews of Laws of Attraction
Movie Info
Year:

IMDB Rating:

5.7

IMDB Votes:

4851

Countries:

Genres:

Tags:

Divorce, Screwball, Wedding, Courtroom, Lawyer, Marriage, New york city, Rock star, Fashion designer, Ireland



Domestic:

$17,871,255 (59.5%)

+ Foreign:

$12,144,910 (40.5%)

= Worldwide:

$30,016,165

Opening
Weekend:

$6,728,905 (2,449 theaters, $2,747 average) % of Total Gross: 37.7%

Release:

2,449 theaters