Lemony Snicket's A Series of Unfortunate Events
Movie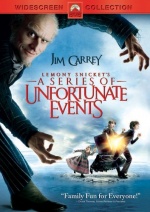 Three wealthy kids - gadget geek Violet (Emily Browning), bookworm Klaus (Liam Aiken), and little Sunny (Kara Hoffman, Shelby Hoffman) are sent to live with a distant relative after losing their parents in a fire that destroyed the family home. Wild, weird and paranoid relative Count Olaf (Jim Carrey), an out-of-work actor, locks them up at night and plots to kill them for their inheritance. This black comedy for the whole family is based on the best-selling books by Daniel Handler and also stars Meryl Streep as Aunt Josephine and Billy Connolly as Uncle Monty.
Tagline
- At last a holiday movie without all that pesky hope and joy.
Darkening theaters December 17.
- Don't say we didn't warn you.
Mishaps. Mayhem. Misadventures. Oh joy.
- On December 17, Christmas cheer takes a holiday.
Ruinning Christmas December 17.
- This Holiday, Christmas Cheer takes a break.
User Reviews of Lemony Snicket's A Series of Unfortunate Events
Movie Info
Year:

IMDB Rating:

6.9

IMDB Votes:

24236

Countries:

Genres:

Tags:

Murder, Character name in title, Train, Arson, Child in peril, Title spoken by character, Beach, Brother sister relationship, Flashback sequence, Sailboat



Domestic:

$118,634,549 (56.7%)

+ Foreign:

$90,439,096 (43.3%)

= Worldwide:

$209,073,645

Opening
Weekend:

$30,061,756 (3,620 theaters, $8,304 average) % of Total Gross: 25.3%

Release:

3,623 theaters