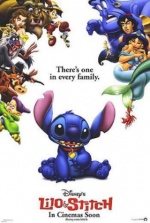 A young Hawaiian girl Lilo (voice of Daveigh Chase) makes friends with an amazing alien creature who is a dangerous, but rather cute being. The creature's name is Stitch (voice of Chris Sanders) as she called him, the tricky little monster is a product of an illegal "Genetic Experiment 626" escaped to Earth. But Lilo thinks he's a kind of dog, and this "dog" gradually proves to be a rowdy and mischievous being. Mad professor, who had created Stitch, is jailed and his fluffy blue nursling is being searched by intergalactic police and considered to be the most dangerous creature in the Universe. But Lilo can unwittingly reclaim the crafty extraterrestrial...
Tagline
- He's coming to our galaxy
His Name Is Stitch
- Meet Stitch. This Summer, He's Coming to OUR Planet.
There's one in every family.
User Reviews of Lilo & Stitch
Movie Info
Year:

IMDB Rating:

7.1

IMDB Votes:

15898

Countries:

Genres:

Tags: