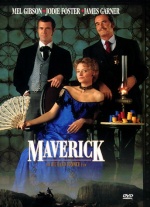 Maverick is recreated from the character James Garner created in the 1950s TV program. Maverick is a gambler who would rather con someone than fight them. He needs an additional three thousand dollars in order to enter a Winner Take All poker game that begins in a few days. He tries to win some, tries to collect a few debts, and recover a little loot for the reward, all with a light hearted air. He joins forces with a woman gambler with a marvelous, though fake, southern accent as the two both try and enter the game.
Tagline
- In their hands, a deck of cards was the only thing more dangerous than a gun.
The greatest gambler in the West has finally met his match.
Movie Info
Year:

IMDB Rating:

6.7

IMDB Votes:

20432

Countries:

Genres:

Tags:

Character name in title, Con artist, Gambling, Pickpocket, Poker, Remake, Thief, Twist in the end, Bow and arrow, Title spoken by character



Domestic:

$101,631,272 (55.5%)

+ Foreign:

$81,400,000 (44.5%)

= Worldwide:

$183,031,272

Opening
Weekend:

$17,248,545 (2,537 theaters, $6,798 average) % of Total Gross: 17.0%

Release:

2,537 theaters