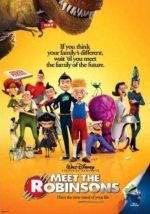 A 12-year-old boy named Lewis (voice of Daniel Hansen) has a wild imagination and an extraordinary genius for inventing different types of fantastic devices. He grows up at an orphanage and desperately wants to be adopted. Once he meets his peer Wilbur Robinson (voice of Wesley Singerman) who takes a trip in a time machine from the far-distant future. He invites Lewis to visit his eccentric, close-knit family, and the two set out on a breathtaking time-traveling journey.
Tagline
- Think your family's weird?
Experience the future as only Disney can imagine it!
- Witness the future of hip-hop.
If you think your family's different, wait 'til you meet the family of the future.
User Reviews of Meet the Robinsons
Movie Info
Year:

IMDB Rating:

6.8

IMDB Votes:

3740

Countries:

Genres:

Tags:

Character name in title, Father son relationship, Based on novel, Surreal, Orphan, Future, Robot, Baseball, Disney animated feature, Kids and family



Domestic:

$97,822,171 (57.8%)

+ Foreign:

$71,510,807 (42.2%)

= Worldwide:

$169,332,978

Opening
Weekend:

$25,123,781 (3,413 theaters, $7,361 average) % of Total Gross: 25.7%

Release:

3,435 theaters