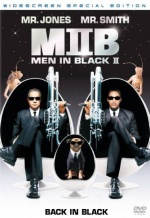 They are back, again in black! The heroes of the most successful sci-fi comedy of the 1997 return to the screen to fight the powerful intergalactic villain Serleena (Lara Flynn Boyle), an alien disguised as a lingerie model. Jay (Will Smith), whose partner Kay (Tommy Lee Jones) is retired since the very ending of the previous series, is to find his colleague who is now a mailman and remembers absolutely nothing about his agent life as his memory is selectively wiped. Serleena's aim is to possess some hidden artifact, in that case our world will have serious troubles, namely, it will be destroyed. The most hilarious characters in this series are talking dog Frank (voiced by Tim Blaney) and a motley crew of the alien worms who help guys in black to fight super-powerful, super-sexy villain. She will not surrender for nothing: Serleena's tentacles wrapped the MIB central office...
Tagline
- Back In Black.
Coming To Rid Your Earth of the Scum of the Universe... Again!
This Summer, They're Back in Black.
- This Summer, They're Back in Business. They're Back in Action. They're Back in Black.
Time to put on the last suit you'll ever wear...again...
User Reviews of Men in Black II
Movie Info
Year:

IMDB Rating:

5.5

IMDB Votes:

34869

Countries:

Genres:

Tags:

Blockbuster, Product placement, Sequel, Spy, Cameo appearance, Subway, Twist in the end, Chrysler building new york, Satire, Statue of liberty



Domestic:

$190,418,803 (43.1%)

+ Foreign:

$251,400,000 (56.9%)

= Worldwide:

$441,818,803

Opening
Weekend:

$52,148,751 (3,557 theaters, $14,660 average) % of Total Gross: 27.4%

Release:

3,641 theaters