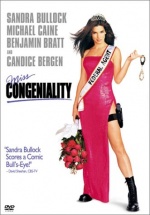 When men meet Gracie Hart (Sandra Bullock) in the street, they never follow her with their eyes, except for those situations, when she is armed and pursues a criminal. Gracie is an experienced FBI agent, and the lack of good manners and charm is more than compensated for by her marksmanship and martial arts skills. But her life takes an unexpected twist when she is assigned to go undercover as a contestant in the Miss America pageant in order to prevent one of the most dangerous criminals from bombing the competition. The bumbling Gracie wears neither a dress nor high heels. She doesn't wear make-up either. In her cosmetics bag there is nothing but a pair of handcuffs. An image consultant, Victor Melling (Michael Caine), will have a hard time beautifying Gracie and teaching her poise, gracefulness and perfect smile.
Tagline
- Never Mess With An Agent In A Dress
She's about to give crime fighting a makeover.
- She's Got A Killer To Catch... Right After The Swimsuit Competition.
This Christmas, get ready for a little peace on earth and good will towards men
- Unpolished. Unkempt. Unleashed. Undercover.
User Reviews of Miss Congeniality
Movie Info
Year:

IMDB Rating:

6.2

IMDB Votes:

24762

Countries:

Genres:

Tags:

Martial arts, Undercover, New jersey, Fbi, World trade center new york, Makeover, Russian mafia, Rich snob, Fbi agent, Drunk scene



Domestic:

$106,807,667 (50.2%)

+ Foreign:

$105,935,053 (49.8%)

= Worldwide:

$212,742,720

Opening
Weekend:

$10,046,534 (2,668 theaters, $3,765 average) % of Total Gross: 9.4%

Release:

2,668 theaters