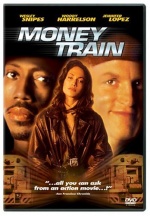 Two foster brothers, black John (Wesley Snipes) and white Charlie (Woody Harrelson), who have dreamt since their childhood of someday becoming rich, hatch an audacious scheme to rob the money train that carries the New York Subway's daily revenue. Only two things can keep them from doing it: they are transit cops; and the train belongs to their boss, Donald Patterson (Robert Blake), the chief of the Metropolitan Transit Authority. However, the temptation seems too strong for them to resist. Charlie needs the money to repay his gambling debts to the mob. Furthermore, he is desperate to wreak vengeance upon his fierce boss, who has discharged him lately. On New Year's Eve, the brothers venture to make their plan a reality...
Tagline
- Get on or get out of the way
Get on the fast track!
- Get on, or GET OUT THE WAY!
User Reviews of Money Train