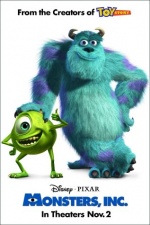 They are monsters but they are not scary at all, some of them are even sweet and funny. They live in the world behind our closet doors, in the city of Monstropolis. The city dwellers work for Monsters Inc., a gigantic corporation which specializes in scaring human kids and generating energy from their screams. The funniest thing is that even skilled scream-generators such as James P. "Sulley" Sullivan (John Goodman), a huge monster with blue fur and horns, and his bustling dude Mike Wazowski (Billy Crystal), a green one-eyed monster, are terrified of kids! And when a fearless little girl, Boo (Mary Gibbs), follows Sully into the factory, she turns the monster world topsy-turvy!
Tagline
- Monsters, Inc. : We Scare Because We Care
Since the very first bedtime, all around the world, children have known that once their mothers and fathers tuck them in, and shut off the light, that there are MONSTERS hiding in their closets, waiting to emerge! What they don't know is: it's nothing personal. It's just their job.
- We Think They Are Scary, But Really We Scare Them!
You Won't Believe Your Eye.
User Reviews of Monsters, Inc.
Movie Info
Year:

IMDB Rating:

7.9

IMDB Votes:

62896

Countries:

Genres:

Tags: