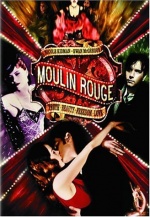 In 1899 a young talented poet, Christian (Ewan McGregor), comes to Paris, Montmarte, where he plunges into the bohemian world of freedom, sex, drugs and love. Soon enough, Christian falls fathoms deep in love with Satin (Nicole Kidman), the most gorgeous Parisian courtesan and the Moulin Rouge's highest paid star. Meanwhile, the Duke (Richard Roxburgh), a wealthy nobleman, is also obsessed with Satin. He is determined to invest in the Moulin Rouge's latest musical in order to have Satin. However, Satin reciprocates Christian's affection, and they must conceal their love affair. Unfortunately, they are fated never to be happy: Satin is ill with consumption so she is not long for this world...
Tagline
- Above All Things This Story Is About Love
Believe In Truth, Beauty, Freedom, and above all things, Love.
- Club Moulin Rouge - an experience you won't forget!
- Every man wanted her. But One man dared to love her.
He entered in a world where fantasies are real.
- No Laws. No Limits. One Rule. Never Fall In Love.
The greatest thing you'll ever learn is just to love, and be loved in return.
This is a story about LOVE, Music is the food of LOVE, Nothing matters but LOVE.
- This Story Is About Beauty
This Story Is About Freedom
- This story is about love, overcoming all obstacles.
This Story Is About Truth
- Truth - Beauty - Freedom - Love
User Reviews of Moulin Rouge!