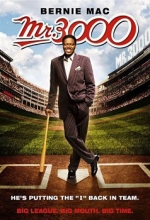 Stan Ross was a baseball superstar who turned his back on the game years ago when he finally hit 3,000 hits. Years later, he's now a successful, self-made entrepreneur whose many businesses revolve around his title: Mr. 3000. But a clerical error has proven that Stan is just short three hits of his spectacular hit record. Now, with time on his side and the potential to be inducted in the Baseball Hall of Fame, Stan must return back to the game and get back his title. But things have changed with age, and as Stan finds out, it's not too easy to get back into the game when he hasn't played for years, and he's nearing 50.
Tagline
- Back in the game. Out of his league.
Big league. Big mouth. Big time.
- He's putting the "I" back in team.
Hits theaters everywhere.
Movie Info
Year:

IMDB Rating:

5.7

IMDB Votes:

3387

Countries:

Genres:

Tags:

Character name in title, Number in title, Friendship, Profanity, Prologue, Wager, Premarital sex, Farce, Romance, Locker room



Domestic:

$21,811,187 (99.9%)

+ Foreign:

$28,190 (0.1%)

= Worldwide:

$21,839,377

Opening
Weekend:

$8,679,028 (2,736 theaters, $3,172 average) % of Total Gross: 39.8%

Release:

2,736 theaters