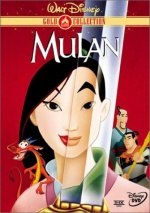 In ancient China, the sanguinary Hun leader, Shan-Yu (Miguel Ferrer), and his mighty army have launched attacks on the Great Wall. Declaring martial law, China's Emperor (Pat Morita) drafts one man from every family to defend the country against the usurpers. Aware of the call to arms, young girl Mulan (Ming-Na Wen), the only kid of Fa Zhou (Soon-Tek Oh), is determined to prevent her crippled and ailing father from having to go to war. Therefore the bold-spirited girl disguises herself as a man and runs away from home to join the Imperial Army.
Tagline
- The flower that blooms in adversity is the most rare and beautiful of all.
This time, the princess saves the prince.
Movie Info
Year:

IMDB Rating:

7.2

IMDB Votes:

12943

Countries:

Genres:

Tags:

Asia, Blockbuster, China, Martial arts, Title spoken by character, Love, Avalanche, Redemption, Army life, Training



Domestic:

$120,620,254 (39.6%)

+ Foreign:

$183,700,000 (60.4%)

= Worldwide:

$304,320,254

Opening
Weekend:

$22,745,143 (2,888 theaters, $7,876 average) % of Total Gross: 18.9%

Release:

2,953 theaters