No Retreat, No Surrender
Movie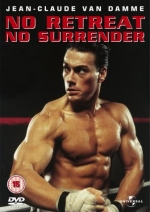 Teenager Jason Stillwell (Kurt McKinney) is fed up with being beaten by local bullies. As a Bruce Lee fan, he dreams of being trained by his idol, a martial arts expert. Fortunately for him, Jason is visited by the ghost of Bruce Lee who teaches him how to defeat even a formidable adversary. After several weeks of training Jason is forced to use his newly acquired karate skills to withstand an organized crime syndicate whose leader is the invincible Ivan Kraschinsky (Jean-Claude Van Damme).
Tagline
- When life is on the line there can be ...
Tonight, He either fights for his life or he'll be running for the rest of it.
User Reviews of No Retreat, No Surrender
Movie Info
Year:

IMDB Rating:

4.3

IMDB Votes:

2312

Countries:

Genres:

Tags: