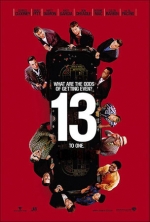 The charming and smart criminal Danny Ocean (George Clooney) reassembles his crew. This time they are scheming to take vengeance on the ruthless and low-down casino owner Willie Bank (Al Pacino) who betrayed Reuben Tishkoff (Elliott Gould), one of Ocean's team players, in their business arrangement. Danny is bent on bankrupting Willie by winning huge amounts of money on slot machines, at Black Jack and roulette simultaneously.
Tagline
- Revenge is a funny thing.
What are the odds of getting even? 13 to one.
User Reviews of Ocean's Thirteen
Movie Info
Year:

IMDB Rating:

7.1

IMDB Votes:

30927

Countries:

Genres:

Tags:

Sequel, Caper, Character name in title, Heist, Number in title, Third part, Sequel to remake, Las vegas, USA:PG-13



Domestic:

$117,154,724 (37.6%)

+ Foreign:

$194,157,900 (62.4%)

= Worldwide:

$311,312,624

Opening
Weekend:

$36,133,403 (3,565 theaters, $10,135 average) % of Total Gross: 30.8%

Release:

3,565 theaters