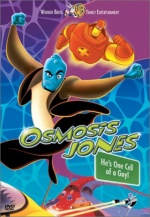 In the city of Frank (in fact, deep inside the body of Frank Detomello (Bill Murray), a zoo worker) there are houses, donut shops, parks, a TV station, hospitals, traffic jams and, of course, a police station. Osmosis Jones (voiced by Chris Rock) is a white blood cell hero of our time. He is a cop to keep order and peace in the city. When Frank eats a germ-infected egg, the villainous virus Thrax (voiced by Laurence Fishburne) invades his body. Ozzy teams up with a recruit cold pill Drix (voiced by David Hyde Pierce) to prevent the entire city from the deadly epidemic.
Tagline
- Every Body Needs A Hero.
He's one cell of a guy, and his partner's a real pill
- He's one cell of a guy.
She's got a jones for Osmosis. Leah. One hot hormone.
User Reviews of Osmosis Jones
Movie Info
Year:

IMDB Rating:

6.1

IMDB Votes:

5512

Countries:

Genres:

Tags:

Chase, Helicopter, Product placement, Character name in title, Blood, Police, Crude humor, Father daughter relationship, Studio logo segues into film, Flatulence



Domestic:

$13,596,911 (96.9%)

+ Foreign:

$429,507 (3.1%)

= Worldwide:

$14,026,418

Opening
Weekend:

$5,271,248 (2,305 theaters, $2,286 average) % of Total Gross: 38.8%

Release:

2,305 theaters