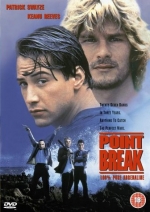 Johnny Utah, a freshman at FBI's bank-robbery crew, goes undercover to infiltrate a gang of surfers he suspects can be the infamous ex-president-robbers. To infiltrate them, he has got to learn to surf, something his boss doesn't like very much.
Tagline
- 27 banks in three years - anything to catch the perfect wave!
100% Pure Adrenaline.
User Reviews of Point Break
Movie Info
Year:

IMDB Rating:

6.6

IMDB Votes:

20364

Countries:

Genres:

Tags:

Domestic:

$43,218,387 (51.7%)

+ Foreign:

$40,313,571 (48.3%)

= Worldwide:

$83,531,958

Opening
Weekend:

$8,514,616 (1,615 theaters, $5,272 average) % of Total Gross: 19.7%

Release:

1,625 theaters