Police Academy 4: Citizens on Patrol
Movie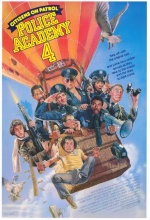 Commandant Eric Lassard decides that the police force is overworked and understaffed, so he comes up with the idea of recruiting civilian volunteers to work side-by-side with officers in a program called "Citizens On Patrol" (COP). Carey Mahoney and his friends Moses Hightower, Larvell Jones, Eugene Tackleberry, Laverne Hooks, and Debbie Callahan are in charge of training the civilians. The civilians include Tommy "House" Conklin, Lois Feldman, Kyle, and Arnie. Captain Thaddeus Harris wants to take over Lassard's job, and that's why Harris is determined to see the COP program fail. But it's Harris and his right hand man Proctor who mess up by unintentionally allowing every inmate at the precinct 19 jail to escape.
Tagline
- On land, on sea, or in the air, no place is safe from them!
Take off with the original cast... and some new civilian recruits as they take to the streets and the skies to fight crime.
User Reviews of Police Academy 4: Citizens on Patrol
Movie Info
Year:

IMDB Rating:

3.8

IMDB Votes:

8609

Countries:

Genres:

Tags: