Police Academy 6: City Under Siege
Movie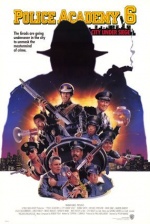 A gang is terrorizing citizens by robbing stores in the Wilson Heights district of town. Since a leak in the department is suspected, the Governor has chosen the officers from the police academy along with Captain Harris and Lt. Proctor to catch the criminals using old fashioned police work. When Commandant Lassard is indicted, the officers must bring the gang and Mr. Big to justice to clear him.
Tagline
- THE FUNNIEST COPS ARE FUNNIER THAN EVER! They're Undercover To Unmask The Mastermind of Crime!
The Grads are going undercover in the city to unmask the mastermind of crime.
User Reviews of Police Academy 6: City Under Siege
Movie Info
Year:

IMDB Rating:

3.2

IMDB Votes:

6878

Countries:

Genres:

Tags: