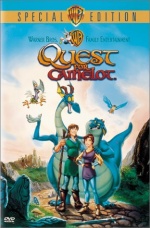 Once upon a time, in the enchanted land of Camelot, there lived King Arthur (Pierce Brosnan) who possessed the magic sword Excalibur. But the perfidious and villainous Baron Ruber (Gary Oldman) decided to steal the sword in order to destroy the kingdom where honor and chivalry reigned. A courageous young woman, Kayley (Jessalyn Gilsig), who dreamt of becoming a Knight of the Round Table, and a blind young man, Garrett (Cary Elwes), embarked upon a dangerous journey through the Forbidden Forest to find the missing Excalibur and save Camelot. Love and faithfulness helped them to overcome the obstacles they encountered along the way.
Tagline
- Bladebeak: A fearful chicken runs afowl.
Devon & Cornwall: A two-headed dragon with an identity crisis.
- Garrett & Kayley: A noble warrior and a brave girl find the magical sword.
Ruber: An evil knight gives nobility a bad name.
User Reviews of Quest for Camelot