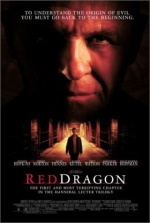 This is a screen version of the most terrific book of the same name (The Red Dragon) by Thomas Harris. The famous trilogy of an evil Gannibal Lecter finds the brilliant, dreadful ending in this suspense series, taking place before events with Clarissa Starling and before the Silence of the Lambs episode. The man who smoked out the mysterious maniac, Gannibal Lecter, now is to pursue the bloodier criminal, who is known as The Tooth Fairy. This ruthless scum carries out massacres of the whole families, and the FBI agent Will Graham (Edward Norton) will face many complications catching the bastard. Will has a mysterious gift which allows him to penetrate into the minds of the criminals, he got retired after catching Lecter, but the massacres having place compel him to return to his dangerous duties. The fate is cynical: Graham is to ask imprisoned Gannibal Lecter for help to succeed, because the monstrous man-eater is a former forensic psychiatrist... and he is in some way connected with the Tooth Fairy.
Tagline
- Before the Silence
Before the Silence, there was the Dragon
- FBI Agent Will Graham Is About to Enter the Mind of a Killer. He Must First Let Hannibal Lecter Inside His Head.
- Meet Hannibal Lecter For The First Time
To understand the origin of evil, you must go back to the beginning.
User Reviews of Red Dragon
Movie Info
Year:

IMDB Rating:

7.3

IMDB Votes:

34660

Countries:

Genres:

Tags:

Helicopter, Murder, Prison, Arson, Blood splatter, Death, Disturbing, Mirror, Nudity, Person on fire



Domestic:

$93,149,898 (44.5%)

+ Foreign:

$116,046,400 (55.5%)

= Worldwide:

$209,196,298

Opening
Weekend:

$36,540,945 (3,357 theaters, $10,885 average) % of Total Gross: 39.2%

Release:

3,363 theaters