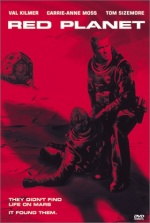 In 2050 resources of the Earth are depleted and the human race is threatened with extinction. American astronauts make the first expedition to Mars to investigate it for possible liveable conditions. The next mission is to make the red planet suitable for human colonization with the help of a multitask robot "AMEE". All goes well until the crew faces a tough challenge: the robot is damaged and transforms into a killer machine. The three survivors, Commander Kate Bowman (Carrie-Anne Moss), Robby Gallagher (Val Kilmer) and Dr. Quinn Burchenal (Tom Sizemore), try desperately to escape from the attacking robot. But there is more to it than that. Though the red planet seems to be desert, in fact, there is life on it...
Tagline
- Not A Sound. Not A Warning. Not A Chance. Not Alone.
The Color Of Fear
- They Didn't Find Life On Mars. It Found Them.
User Reviews of Red Planet
Movie Info
Year:

IMDB Rating:

5.2

IMDB Votes:

12596

Countries:

Genres:

Tags:

Lasersight, Rescue, X rayed skeleton, Nasa, Space, Future, Robot, Urination scene, Dismemberment, Reverse footage



Domestic:

$17,480,890 (52.2%)

+ Foreign:

$15,983,079 (47.8%)

= Worldwide:

$33,463,969

Opening
Weekend:

$8,721,296 (2,703 theaters, $3,226 average) % of Total Gross: 49.9%

Release:

2,703 theaters