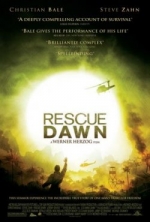 The suspense-filled war drama is based on the real-life story of German-born Dieter Dengler (Christian Bale) who satisfied his passion for flying by becoming a pilot in the U.S. Air Force. While on a secret bombing mission over Laos during the Vietnam War, he was shot down and captured by Vietcong guerrillas. The young man displayed fortitude and endurance when he was brutally tortured by his captors who wanted him to betray his country. Taken to a prison camp, Dengler didn't succumb to despair and began planning an escape from the clutches of the sadistic camp guards.
Tagline
- This summer experience the incredible true story of one man's fight for freedom
A true story of survival... declassified.
User Reviews of Rescue Dawn