Roanoke: The Lost Colony
Movie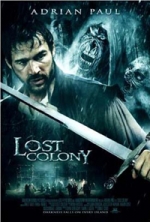 When supplies became paltry, John White, as governor of the colony at Roanoke Island, was elected to return to England. In doing so he left his pregnant daughter, Eleanor, behind to govern the colony. Upon his homecoming, White found his return to Roanoke to be delayed by war. Desperate and with few options he turned to an enemy, Simon Fernandez, for help. After a time of preparation and turmoil, the unauthorized expedition left for the colony. As her father tries to return, Eleanor struggles to keep the fledgling colony afloat. With food and supplies depleted, dissent begins to grow. Each day brings a longing for White's return and fears of the consequences should he fail. What greets John White on his arrival has become one of the greatest mysteries of American History.
Tagline
- An Historic Event. An Unexplained Mystery
117 men, women and children vanish without trace - Inspired by the true story.
User Reviews of Roanoke: The Lost Colony
Movie Info
Year:

IMDB Rating:

4.9

IMDB Votes:

24

Countries:

Genres:

Tags: