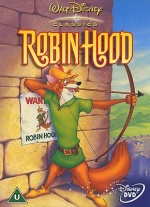 Retelling of the Robin Hood legend with animals for the characters. Robin Hood is an outlaw who starts to form a gang in Sherwood Forest to fight the injustices of the Sheriff of Nottingham, who levies unpayable taxes upon the people.
Tagline
- Join the MERRIEST MENagerie in the world's best-loved legend.
Meet Robin Hood and his MERRY MENagerie!
- The way it REALLY happened...
User Reviews of Robin Hood