Saving Private Ryan
Movie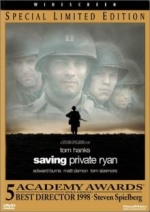 Following the Allied invasion of Normandy, two brothers lay dead in the wake of the onslaught. Meanwhile, in New Guinea, a third brother has been killed fighting the Japanese. After the Army General Staff learns that a fourth brother is missing in the French countryside, a rescue mission is ordered to find the young soldier and return him safely home. The mission is mounted by a veteran Ranger Captain commanding a squad of men who have mixed feelings about risking their lives to "Save Private Ryan".
Tagline
- I'll see you on the beach!
There was only one man left in the family, and the mission was to save him.
In the Last Great Invasion of the Last Great War, The Greatest Danger for Eight Men was Saving... One.
- The movie that inspired to the world to remember
User Reviews of Saving Private Ryan
Movie Info
Year:

IMDB Rating:

8.4

IMDB Votes:

192072

Countries:

Genres:

Tags:

Blockbuster, Character name in title, Blood, Blood splatter, Death, Person on fire, Shot in the chest, Shot in the leg, Shot to death, Stabbed in the chest



Domestic:

$216,540,909 (44.9%)

+ Foreign:

$265,300,000 (55.1%)

= Worldwide:

$481,840,909

Opening
Weekend:

$30,576,104 (2,463 theaters, $12,414 average) % of Total Gross: 14.1%

Release:

2,807 theaters