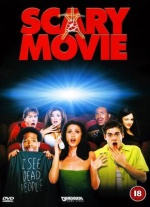 Six friends - Cindy Campbell (Anna Faris), Bobby Prinze (Jon Abrahams), Buffy Gilmore (Shannon Elizabeth), Greg Phillipe (Lochlyn Munro), Ray Wilkins (Shawn Wayans), and Brenda Meeks (Regina Hall) - are being stalked by a serial killer. A serial killer that is after them because of an accident that they caused last Halloween. A serial killer that seems to have come out of every other scary movie. The body count's already started with Drew Decker (Carmen Electra), the local town slut, and it's starting to build up. The friends are going to have to escape from both the killer's clutches and annoying news reporter Gail Hailstorm (Cheri Oteri) if they plan on living to the sequel...
Tagline
- Funny as hell
No mercy. No shame. No sequel.
- Obey The Rules... Or Die Laughing.
User Reviews of Scary Movie
Movie Info
Year:

IMDB Rating:

5.7

IMDB Votes:

36158

Countries:

Genres:

Tags:

Blockbuster, Murder, Mass murder, Teen movie, Cannabis, Crude humor, Flashback sequence, Obscene finger gesture, Black comedy, Male nudity



Domestic:

$157,019,771 (56.5%)

+ Foreign:

$121,000,000 (43.5%)

= Worldwide:

$278,019,771

Opening
Weekend:

$42,346,669 (2,912 theaters, $14,542 average) % of Total Gross: 27.0%

Release:

3,301 theaters