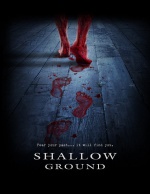 One year past the murder of a local girl, Sheriff Jack Shepard sees a blood-covered boy came out of the darkness of night. Shepard is guilt ridden over the girl's murder, he desperately begins to investigate the boy's true identity and tries to reveal if the mysterious teenager had possible victims any further. Sheriff Sheppard must meet his own demons and face his fears without any uncertainty if he is to finally solve the bloody mystery that has nearly consumed a small town as a stranglehold of a vicious killer and the living will sense the same pain the defuncts have suffered.
Tagline
- Don't Dig Too Deep.
Fear your past... it will find you.
User Reviews of Shallow Ground
Movie Info
Year:

IMDB Rating:

5.3

IMDB Votes:

1471

Countries:

Genres:

Tags: