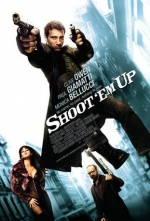 While sitting at a bus stop, Mr. Smith (Clive Owen) unwittingly witnesses a pregnant woman pursued by a gunman. Feeling it his duty to help the woman in trouble, he kills the goon and assists the woman with the baby's delivery. However, she is killed by additional thugs, led by the intuitive and ruthless Hertz (Paul Giamatti) who wants the baby dead. There is nothing for Smith to do but to take the newborn kid to his old friend, Donna Quintano (Monica Belluci), a prostitute who specializes in fulfilling lactation fantasies. He hopes that she will agree to feed and take care of the orphan baby. But the sultry woman wants nothing to do with the kid, especially when Hertz shows up at the bordello. Smith and Donna are forced to go on the run. Amid escalating gunfights with Hertz' endless army of aggressive thugs, Smith figures out that the kid is the target of a United States Senator who is near death and needs a bone marrow transplant to treat cancer.
Tagline
- It's a better investment than a crib.
I'm a British nanny and I'm dangerous.
- Just another family man making a living.
No name, no past, nothing to lose.
User Reviews of Shoot 'Em Up
Movie Info
Year:

IMDB Rating:

7.4

IMDB Votes:

11583

Countries:

Genres:

Tags:

Murder, Gun, Blood, Blood splatter, Death, Female nudity, Nudity, Satire, Shot in the chest, Shot in the foot



Domestic:

$12,807,139 (47.9%)

+ Foreign:

$13,911,411 (52.1%)

= Worldwide:

$26,718,550

Opening
Weekend:

$5,716,554 (2,108 theaters, $2,711 average) % of Total Gross: 44.6%

Release:

2,108 theaters